9 DEFENSIVE FOOTBALL TRAINING EXERCISES AND DRILLS
HOW TO TRAIN DEFENDING IN FOOTBALL WITH 9 TRAINING DRILLS
Learn how to improve your defending in soccer.
Included, the best defending training drills used by the top academies.
How do I train defending?
In modern football, it's difficult for scouts to find a really good defender. Why?
A great defender has to be outstanding at many things:
Tackling
Heading
Tactics
Character
Technique with the ball
And many more
In this article you're going to learn the best defending training drills and exercises we use in the morning training in Alicante Football Academy.
HOW TO DEFEND IN FOOTBALL
To defend in football you need to be able to keep the right defensive position in the field at all times, win tackles against your opponents, win aerial challenges, as well as playing efficiently from the back to build up your team's play.
Defending is an art. Finding a great defender that's great in every part of the game can turn a team from good to great.
Learning how to defend in football comes from doing the right defensive training drills and exercises and always emulating game situations, in order to get you ready for a real game!
There are many aspects that make a good defender, but in Alicante Football Academy we focus on these aspects of your defensive game:
It's crucial that you practise defensive soccer drills and exercises with your team and by yourself. That's the only way you will be able to estimulate your brain and body enough to feel comfortable in a game situation.
The objetive is that you're able to get so good as these defensive aspects of your game that they come out natural, without thinking, and in Alicante Football Academy we always encourage both types of training:
Defensive training with your team
When you do defensive football training with a group or your team you have to try to focus on doing game-like exercises.
Many of this will improve your tactics and positioning in the field, as well as communication with your other defenders.
Also, take advantage of being with people and ask the attackers to play 1v1 with you to improve your tackling!
Defensive training by yourself
When you're by yourself you can still train your defensive skills and game.
Focus on heading the ball correctly, trying to make contact at the highest point.
Also, this is the time to work on your technique and passing to be able to be as composed as possible when you're under pressure and to start the play when you build up from the keeper.
THE BEST DEFENSIVE FOOTBALL TRAINING EXERCISES AND DRILLS
The best defensive soccer drills are tackling exercises, tactical defensive drills, heading drills and technique and passing training.
Because you want to improve your defensive soccer skills, we've compiled the best exercises, targeting each part of the game, to perform alone and with others so you can become a great defender as fast as possible!
Tackling and getting the ball from the opponent is the most basic way of defending.
A strong defender that you can rely to win the ball in challenges can catch the eye of the football scouts very easily!
With these exercises you'll be bale to improve your defensive tackling drastically!
Tackling exercises with your team
You have to take advantage of being with people and focus on 1v1 and 2v2 defending drills.
Simple stuff, always do these exercises with a goal to defend so you can have a reference.
Ask the attacker to run at your and try to go past you. Put a time limit, for example 30 seconds, if you've won the ball or 30 seconds have passed you get a point. If they go past you or score they get a point. Let's see who wins!
You can do this with 2v2, or even 2v1 against you so you can practise in even more difficult situations.
Perhaps it could seem a bit hard to train tackling without and opponent, but it's possible! You're going to practise your sliding tackles.
Get in front of a wall and draw (or imagine) an horizontal line from where you are parallel to the wall.
Pass the ball against the wall diagonally, so the ball will hit it and get away from you, and it will pass your line if you don't intercept it.
Your goal is when you do the pass, try to reach the ball and do a sliding tackle before it passes the line.
Obviously, the harder or more diagonally you pass the more difficult it will be to reach the ball before it passes the line, so don't push it too much and do it in a way that it's hard to reach the ball but not impossible.
Tactical defensive exercises
Interestingly, what you do without the ball might be one of the most important defensive aspects of the game.
As a defender, your positioning in the field is one of the first things coaches and scouts will look for in a trial.
Every morning, we work a lot on this tricky part of the game in our academy.
In the video you can see that all the players study tactics in their football course!
Tactical defensive drills with a team
The most efficient way to train your positioning in the field as a defender is to do screenage game-like situations.
This is something that many clubs do and it works very well. The trick? Make sure you do it with a real-game intensity and don't stop every few passes.
You need a coach or a knowledgeable friend to check how you're moving in the field, and once the action is finished, talk to your and correct your positioning.
Make sure you listen and implement the information they're giving you!
Tactical defensive exercises alone
We've had to get creative with this one! It might sound strange but we think it works.
First you have to imagine you're in a game situation, so position yourself in the right part of the field, just outside of your area.
Then grab the ball with your hands and kick it upwars, but with lots of spin. So, in a way that when it bounces it's a bit uncertain where the ball will go and how fast.
Then, when the ball bounces and moves around the field unexpectedly, move around the field accordingly. That means, constantly look at the ball and at your goal to position yourself the same way your would do if the ball was there in a real game.
You want to have your body in between the sight of the ball and the goal, and keep checking both of them as the ball is bouncing with spin in different directions.
In football, the ball is in the air a surprising amount of time.
Who wins the ball after the ball goes to the ground is crucial to keep posesion of the ball.
Also, defending corners should be one of the main goals of a defender, so, you have to be pretty good at heading!
Heading football drills with a team
You need 3 players, 1 of them has to quick the ball high in the air, and the other 2 have to run together simultaneously where the ball is going to land, and try to hit the ball first, at the highest contact point.
The one who touches the ball first gets the point.
This way, you're emulating a goal quick from a goalkeeper and trying to have a physical battle to win the aerial challenge.
Heading football exercises alone
Very similar to the first the past exercise, you can quick the ball in the air and try to hit it at the highest point.
Also you can kick the ball against the wall and try to hit it with the head and directing it towards one side. The same way you would do in a corner kick.
You need to learn to defend vertical aerial balls as well as horizontal ones.
Technique and passing training
A modern defender has to train technique and passing as much as a midfielder does!
The play almost always starts in the floor from the goalkeeper and the defenders, so it's crucial that you can not only avoid losing the ball, but also create changes with key passes.
Teachnique football drills with a team
The team exercise we always do in Alicante Football Academy is the one touch rondo. Make a rondo of 4 players with 1 in the middle. The rules are simple, you have 1 touch. The important thing here is to make sure you position your body and feet correctly, before the ball comes to you, so you don't have an incorrect posture when the ball comes.
At first, it will be hard, but if you focus on anticipating and not reacting, you will see that you are able to give good passes with your weak foot. Of course, if you do a nutmeg to the person in the middle it's 20 press ups!
Passing football exercises alone
Bounce the ball on the floor as hard as possible and as it comes down, try to take it in its stride with an orientated control. To do it as fast as possible, it's better if you let the ball bounce slightly and then take it in your stride. Similar to the small bounce you do with a half volley. Practise this control going forward, left, right and backwards. Also, don't forget to do it with your weak foot!
The objective of this exercise is to master your control of the ball when it comes in an unwanted way. You won't always get the perfect pass in the floor, sometimes, the ball might come in the air, knee level, bouncing, and more, so the mor prepared you are to do this in a game the better!
how to improve DEFENDING in football
To improve defending in football you need to train 3 times a week doing exercises that work on 4 aspects of your defending game: positioning, tackling, heading, and passing. Also, this training has to be done with a team with game-like situations as well as by yourself.
Some defending training exercises and drills are:
1v1 Defending with a small goal to defend
Aerial challenges with team mates or by yourself, practising vertical aerial balls mimicking a goalkeeper quick as well a horizontal aerial balls mimicking a corner kick.
Passing and technique exercises like the rondo that improve your touch
Check more exercises above
How good you end up getting at defending depends on you, as well as on your team and coaches, that's why it's crucial that you learn how to join a football academy that has top coaches and facilities.
In Alicante Football Academy we make sure that every player, in any position, gets personalized training and manages to find a team!
Defending is crucial to succeed and catch the attention of scouts in
football trials
, some of the players in our academy managed to sign for
football academies in Spain
thanks to their defending in the field, below are some examples: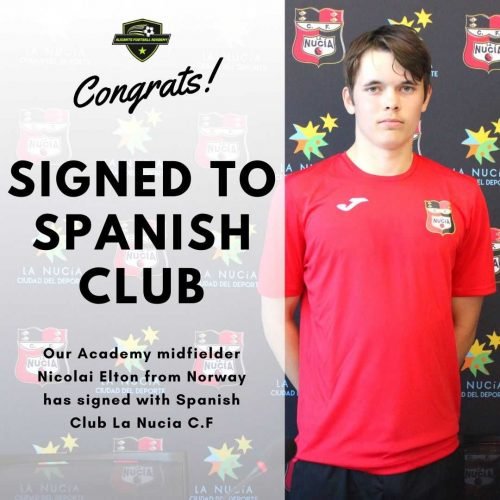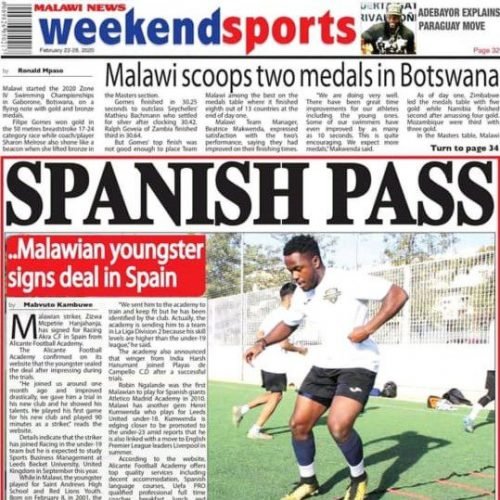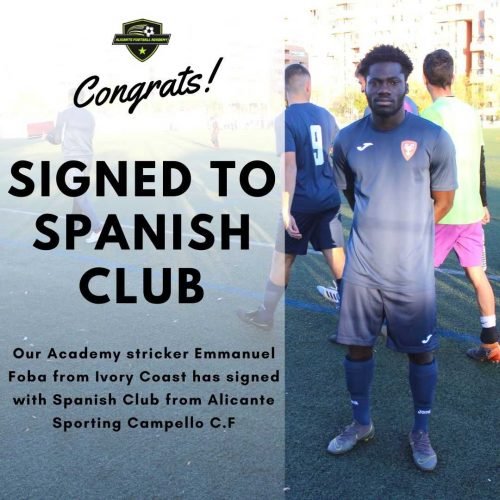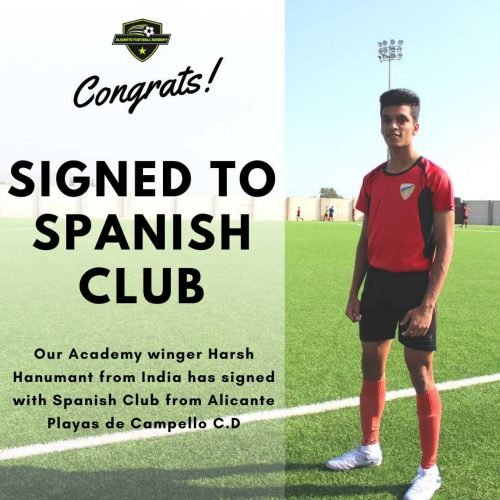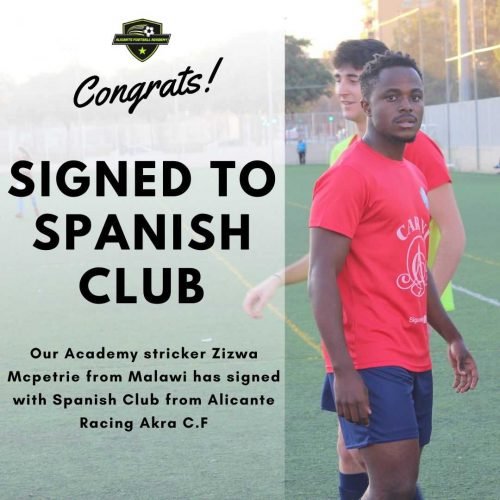 FREQUENTLY ASKED QUESTIONS ABOUT DEFENDING TRAINING EXERCISES AND DRILLS
There's so many exercises out there, but we think the classic 1v1 and 2v2 defending is the best because it works on many crucial aspects like tackling, positioning, communication and well, they're super fun to do!
A complete defending soccer session should be around 45hours long. The session could be split into tackling, heading, positioning and passing, with team mates as well as individual exercises!
A good number is 2 times a week, and if is possible, 4 times a week is optimal.
The important part is to make the most out of the session with the tips we've given you in the article.
SECRET PRO FOOTBALL TIPS IN OUR SOCIAL MEDIA