Open Football Soccer Trials In Spain And Europe 2021
ALICANTE FOOTBALL ACADEMY TRIALS
Learn the 5 ways to get and pass soccer tryouts.
Do you want to attend football trials?
Trails available.
Update Season 2020/2021
Trials in Spain and Europe AVAILABLE in Alicante Football Academy. Check more Info below.
2021 FOOTBALL TRIALS IN SPAIN WITH ALICANTE FOOTBALL ACADEMY
We are a football academy in Spain that hosts international players in our residence in Alicante and trains them daily to prepare them for football trials in Spain and Europe.
We have a big web of contacts with clubs, agencies and football scouts in Spain and Europe.
Once you join Alicante Football Academy we will send you to football clubs in Spain to attend soccer trials and have a chance to sign for them with a professional contract.
Have you ever been confused about football trials and what they really are? You're not alone.
This is because there are many different types and ways to do soccer tryouts. But, we are sure your main question is:
How do I get a football trial in Europe and Spain?
How do I actually pass a soccer trial?
WHAT ARE FOOTBALL ACADEMY TRIALS?
Football trials or tryouts are known as the process where you are evaluated by a club to know whether you have the abilities and are a good fit to join them.
Normally, for a team to invest their time in evaluating you, they have to had seen you play or have an initial interest in you, however, there are other ways to get a trial. More about this in the upcoming points.
There are different types of trials:
There are different types of trials:
Your objective in a soccer open trial is to be yourself. It might sound contradictory to other opinions where they say you have to play your best and be extraordinary.
This later point is true but, if you stop and think about it:
"You have to play your game and be yourself because if you succeed and get signed by a football academy, but you have played a different way in the trial or have played in an extraordinary way just in the tryout, they will see the real you once you join your new club."

 
In a nutshell, being yourself and playing your game, has to be good enough to impress the academy scouts and coaches of the club. And the way to do that is to improve your overall game.
HOW TO GET FOOTBALL TRIALS IN SPAIN
The best 5 ways to get soccer open trials are:
You are seen playing for your own academy club.
You are seen by a football agent playing for your own soccer club.
You join an open football trial day with other players.
You contact clubs straight away for a soccer tryout.
There are different ways to get an opportunity for a soccer trial in Spain and Europe and every single one is valid.
We have listed them with a score from 1 to 10 of the probability of getting signed:
You are seen BY A CLUB SCOUT playing for your own club.
You are seen by a football agent playing for your own club
You join a trial day with lots of other players
You contact clubs straight away and try to convince them to give you a trial.
You join a specialised football academy which prepares you for the trials and finds trials for you.
1. You are seen playing for your own academy club
This is actually the favourite way to find players for clubs and academies. Is the most natural and neutral way with on one involved in the process.
This is the reason why youth clubs spend lots of money putting together teams of soccer scouts to look for young talent.
How to get scouted is a question we get a lot. It requires similar attributes from you as a trial, if you can impress a soccer scout you can impress a coach in your tryout.
However, for you, as a young football talent looking for opportunities, this is the hardest and least probable way to get a soccer open trial in Spain or Europe.
Normally, only top clubs can afford this and the amount of real talent they miss is very big as they don't have the resources to find every player.
Find out more info about how to join a football academy straight away in the link.
2. You are seen by a football agent playing for your own soccer club
This is a similar point to the last one. In this case, clubs are not really fans of this as there's a third party involved and they are going to have to pay for you if they want to sign you in their football club.
In modern football, this is becoming the new normal and football youth academies are getting used to having more people involved.
For you, this is a bit easier and smoother that the other option as agents have the interest of making money, which isn't necessarily wrong, so the are actively looking for football talents like you, and consequently, their standards to choose a player might be lower and they need to sign players in football clubs to make a living.
3. You join an open football trial day with other players
This is a smart move by clubs. They have come together to make their job easier and created football open trial days.
These consist of full training drills and exercises and pro game days where they put together inhouse trials for lots of players, so basically, they don't have to go around looking for them and the players come to them.
Normally, there aren't any standards to join these open tryout days, however other times there are.
Even though this is a real chance, it's probably the least probable one for you to succeed and actually get a contract in a soccer academy in Spain or Europe.
The most important thing in a trial is that it's personalised for you and that the coaches and scouts are focused on evaluating your football abilities, not the ones of 100 other kids.
This video-documentary shows first hand what these open day football trials are like:
4. You contact clubs straight away for a soccer tryout
We have spoken about these kinds of techniques in another article about How to join a football academy in Spain and Europe straight away.
If you have time, you are creative and determined, there is always a possibility that they will answer, however, it's extremely improbable that they will even see your email.
However, never say never, if you do you will need this to have a better chance of succeeding:
A video of yourself playing, preferably in your clubs. This is a must.
A good presentation of yourself. Don't make it too long.
A CV where you list your basic soccer info. Position, clubs you've played in, main strengths, height and weight, nationality, etc.
This is a video of a former Alicante Football Academy player who played in clubs around Europe. He made this video himself with a compilation of his games clips.
These websites give very valuable info about contacting clubs and football trials:
5. Join a specialised football academy for trials like Alicante Football Academy
Our academy is entirely based on finding you trials and clubs to join in Spain.
We train you in the mornings to prepare you for the tryouts.
Then we send you in the afternoons to soccer clubs in the Spain and Europe for training and games so you can be tested and evaluated.
The moment you join Alicante Football Academy, you will be attending pro trials straight away.
More info below on how Alicante Football Academy works.
The reason why this is a most probable way for you to succeed and get signed in the soccer tryout in 2021 is because:
Alicante Football Academy trial success story.
SUCCESS TRIALS OF ALICANTE FOOTBALL ACADEMY PLAYERS in 2021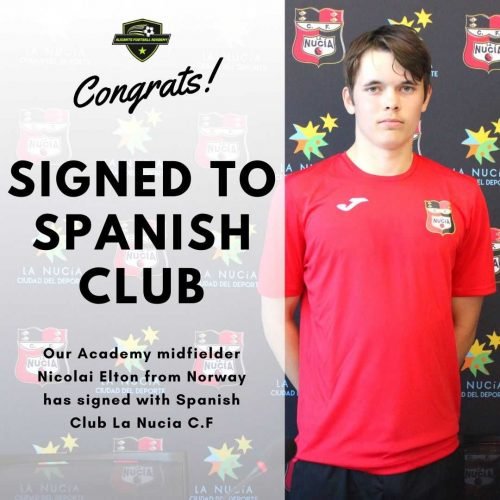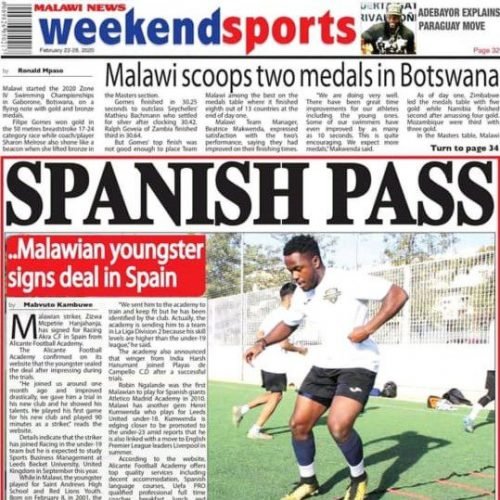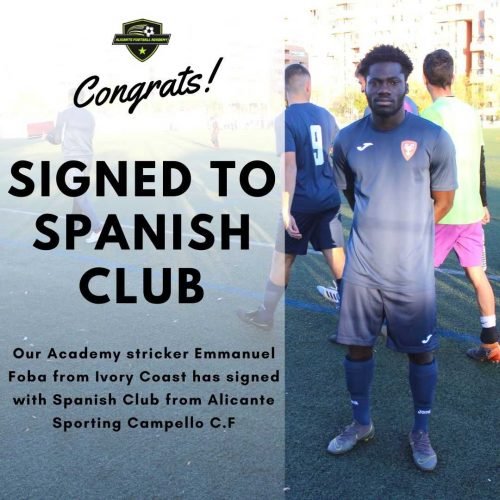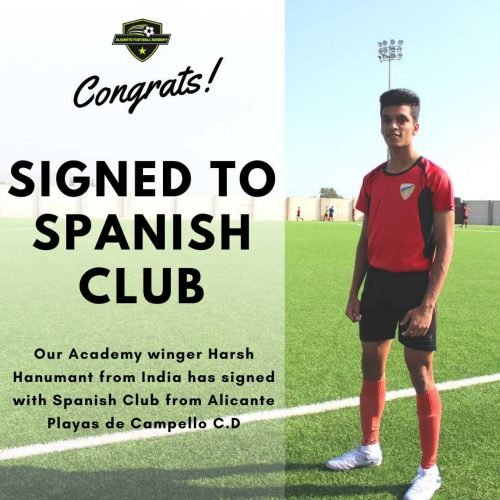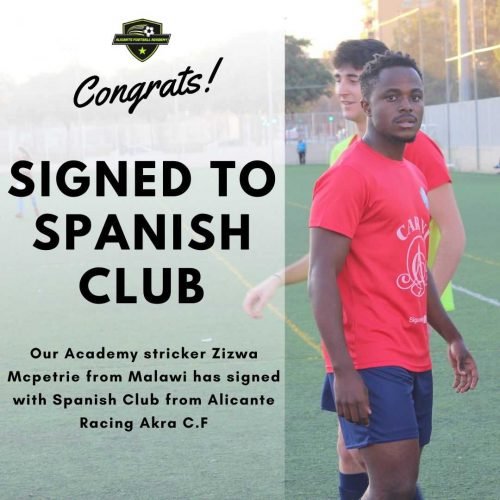 FOOTBALL TRIALS IN SPAIN IN 2021
Spain is an unique country with trials because the country is filled with talent so clubs tend to have strong scouting systems and they're also willing to bring players in their training sessions and games as a trials to see their abilities.
Do you know all the teams in Spain? Check out this list to know all the football teams you have in Spain.
Some exercises you will do in a football trial in Spain are:
Possession games. They look at your vision and ability to get away from the opposition.
1v1 situations. They look at your skills and your abilities to take on defenders.
Real game situations. They look at your overall game, this is your moment to shine.
Passing drills. They look at your passing abilities but also at the way you understand and listen to specific exercises.
Speed exercises. Football speed training is one of the ways coaches try to see your physical abilities in a trial.
Rondo. They look at your first touch and awareness of space.
In Alicante Football Academy we prepare you to perform these exercises so you can impress the academy scouts in the tryout.
SOCCER TRIALS IN EUROPE IN 2021
Soccer trials specifically in Europe are a great way to join a club if you are from outside the EU like the United States of America. Clubs have a lot of contacts with people in the US and there's possibilities you could attend one.
Another possibility is attending a specialised academy for trials.
Check the info specific info to join our soccer academy in Europe in you are from outside the EU.
FREQUENTLY ASKED QUESTIONS ABOUT FOOTBALL TRIALS IN SPAIN
SECRET PRO FOOTBALL TIPS IN OUR SOCIAL MEDIA