How to join a football soccer club academy
Have you been thinking what to do to join a soccer academy?
We have the answer.
There is a lot of information out there explaining what to do to join a football academy, much of this information are opinions or personal experiences from people but..
How should you really go about this process?
What different ways are there to be part of an academy and showcase your talents?
What can you do to finally get a team, where you can develop and go into the next level of professional football?
We have created a guide to answer these questions once and for all, after reading the full guide you will have a very clear idea of what you have to do to get in a football club.
BEST 4 WAYS TO JOIN A FOOTBALL CLUB IN EUROPE
Obviously, there are many ways to get in a football academy and a professional club, but what are the most reliable go-to ways to do this?
We have come up with the 4 ultimate ways to join a football club academy. If you follow these steps you will be on your way to getting a professional football and playing in a football academy in Spain. 
Getting scouted in 2 ways.
Getting the right agent for you.
Contacting clubs by yourself.
How can you be seen by a football academy or club?
1. Getting scouted while you play football.
This is a way to join a football academy, however is the least likely one. Simply because you need a lot of luck.
This is sometimes described as climbing the ladder to the top.
You basically join any soccer team regardless of the level. When you play, you will always have the chance of showing your skills and abilities.
"This is the beauty of football, everyone has the chance to play, everyone has the chance to showcase themselves and succeed."
If you are different, with abilities that overshadow the other players, and perform correctly in the soccer field, there will always be a chance of someone seeing you and wanting to sign you.
Keep in mind that these abilities have to be trained, for example, if you want to be fast and impress scouts, you need to do speed training drills and exercises! Things don't come just because of 'talent'.
After being scouted you will normally be invited to attend to football academy trials in Spain, more info about this in the link.
As Arsene Wenger said one time, you never know who is watching!
These can be football scouts actively looking for players or simply someone who is watching your game by coincidence and is impressed by your abilities. Check our new guide on how to get scouted in football.
Normally, the person interested will try to contact you, your parents or most commonly your football coach. From there on, there is normally a football trial or even signing straight away!
Another way this can happen is by your football coach.
The coach in your team might know people or might have had a past in football and valuable contacts, so, if you impress and clearly show you are too good for the current level, many times your coach will identify this and help you on.
Surprisingly this happens very often, as coaches in smaller clubs want you to succeed and have a career in football.
Sometimes, coaches might send you for football clinics or soccer camps in Europe to show your talents.
2. Getting a football agent.
Oh! The controversial world of football agents.
Similarly to football scouts, the job of agents is to actively search for football talent and find them a soccer team.
However, differently to soccer scouts, agents also take care of other parts like contracts and salaries. Normally, this is where they will take their fee.
But going back to the point of joining a soccer club, agents are people with contacts, a lot of contacts.
So, when you manage to impress an agent, they can be a helpful person because they can arrange trials or football scouts to come and watch you play.
They normally are very eager to do this because this is the nature of their business. If you succeed they succeed, and get a profit, ah. Everyone wins.
The truth is that most of the agents are around a higher level, and there aren't many who might be looking around low level clubs. This makes it harder for you to join a club with their help.
Don't worry! In this website you can see a huge list of football agents in Europe. However, before you start sending emails, check out our last point on how to join a football academy in Europe.. Is the best one yet!
Normally, an agent will help you once you are already part of a soccer club. However, there are a lot of agents or even people who have been part of football clubs and academies in the past, that might not be actively looking for talents, but if they see someone with special abilities they might be interested in helping.
PRO TIP: Always try to record your football games, or just yourself playing football. This way, you can contact football agents by email and send them your video. You might be surprised by the number of agents that contact back. Specially if you are already in a good level club or if you look very good in your video.
How do I apply for a football academy for free?
3. Contact the club straight away o join for free.
There are three simple ways to do this:
Get a hold of an email from the club
Get the details of anyone who works in the club.
Have an agent or a person who knows people in the club.
As explained in our PRO TIP, if you sent a straight forward, well written email with your details, information, and most importantly, a video, there is a possibility you get a response.
But keep in mind that, of all the ways to join a football academy, this is the least likely one. But is a great chance to join a football academy for free without any agent fees.
What is the best and fastest way to join a football club academy in Europe?
A specialised academy like ours will improve you as a player and do the hard work of finding a team for you.
Opposite to the last point, this is the most likely way you can succeed in joining an actual Pro Football Club Academy in Spain.
Check our Inside Alicante Football Academy video to see how football academies work.
One day in Alicante Football Academy in Spain
You can see the success stories from some of the players in our academy Alicante Football Academy who have managed to join a soccer club in Spain in just a month!

We have players appearing in their countries newspaper!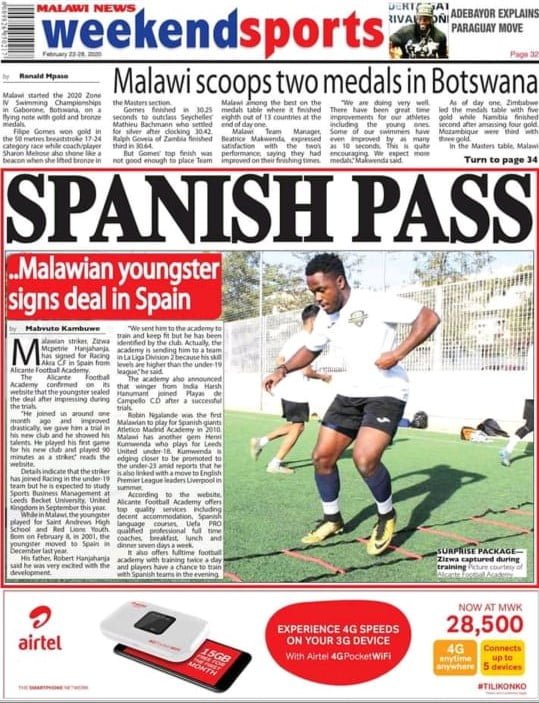 How can I attend a soccer academy in Spain if I'm not from Europe?
If you want to join a Pro Academy in Spain like Alicante Academy you simply have to fill up our form with your information. If you are from the European Union you can join straight away. If you are from outside the European Union you will have to apply for a Visa Permit, this is quite a straightforward procedure and can be completed fast. Learn about the process to play in Spain if you are from outside the EU here.
We, as an Academy, take care of this procedure so you don't have to worry about it.
What is like attending a full time private football academy?
In our Alicante Football Academy, players breath, eat and sleep football. A total unique environment of football that will put you in the best position to improve as a player, and take the next step to a Pro Soccer Club in Spain.
Training football twice a day 5 times a week, once with the academy and once with a team in Spain as a trial. So you are always taken out of the comfort zone.
In our Soccer Academy you will be attending football trials weekly, this is the reason why you join an academy like this.
We train you to make you better and showcase you to teams of your level who might want to sign you after a trial.
We are the scout who never saw you, the coach who didn't help you, the agent who never found out about your abilities!
FREQUENTLY ASKED QUESTION ABOUT SOCCER ACADEMIES
SECRET PRO FOOTBALL TIPS IN OUR SOCIAL MEDIA